Think fast
and fluid
Find out how you can outperform the competition and accelerate success by becoming a digital-native enterprise (DNE). Get this IDC research report – The Drive to Digital Native: CloudBlue's Strategy to Connect the Digital Ecosystem – and explore our three-pillar approach.
Gain access to a wider global ecosystem of technology providers to expand your offerings

Leverage a hybrid and scalable as-a-service platform to meet growing customer demand

Connect with new revenue streams, increase customer loyalty and improve efficiency
You're already competing against DNEs. Isn't it time you evened the playing field?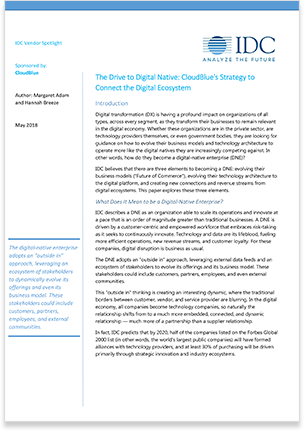 Go digital native with your free copy of this strategic IDC report.